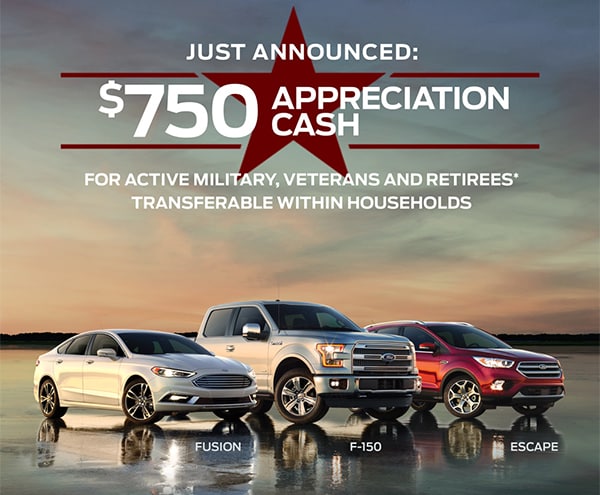 Ford Motor Company proudly supports members of the military and their families. They offer a $750 bonus cash rebate to those who qualify including family members of Military personnel. All American Ford in Point Pleasant, NJ is honored to be able to participate in this program and pass the savings on to you!
Even better news, this program was recently enhanced by Ford. From May 20, 2016 - July 5th, 2016, we can offer those who qualify a $750 cash bonus to put towards the purchase or lease of an eligible new Ford vehicle. On top of that, we can offer special financing rates since Ford Credit supports the FMCC Service-members Civil Relief Act (SCRA).
Hurry in because these savings will expire at the beginning of July.
HOW IT WORKS
1) Schedule an appointment or just stop in and meet one of our qualified Sales Consultants.
2) We work with you to register for the offer with your Troop ID and through ID.Me.
3) Once you receive instant qualification / approval, we'll work with you to find the perfect vehicle to fit your needs. We have one of the largest inventories in the Northeast -- there is truly something for everyone.
4) After you and your knowledgeable Sales Consultant choose a vehicle, if you are financing through Ford Credit, one of our professionally trained Finance Managers will discuss your options for the special financing rates we offer to those who qualify.
ELIGIBILITY
Active Duty
Qualifying military and family members include:
Active Military Personnel in the Army, Navy, Air Force, Marines, Coast Guard
National Guard, Reservists Serving on Active Duty and members of the Delayed Entry/Enlistement Program (DEP)
Veterans Separated within the last 180 days
Spouse/Surviving spouse, or other household members
Retired
Qualifying military and family members include:
Retirees

Regular Retirement
Reserve Retirement
Early Retirement (TERA)
Medically Retired

Spouse/Surviving spouse, or other household members
Veterans
Veterans include those that are still within 180 days of active service. If you are greater than 180 days, you still may qualify for these other benefits listed below:
X-Plan Partner Benefits - for members of the following groups:

DAV - Disabled American Veterans
PVA - Paralyzed Veterans Association
Veterans Advantage